Peaceful Pines RV Park Rates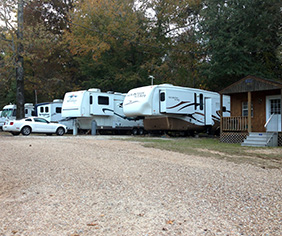 To reserve an RV site or to find out about availability you may call during office hours or you can fill out our reservation form and we will get back to you as quickly as possible.
PLEASE BE AWARE WE HAVE A FIRM, NO REFUND POLICY. Cancellations must be made 24 hours in advance.
Peaceful Pines RV Park is owned by Larry and Christine Hollomon and managed by Dawn Hollomon, all of which live on site, ensuring peace and safety in the park plus attention to our visitors' needs.
RV Park Rates
30 &50 AMP RV/CAMPER RATES (all year round)
- rate includes family of 4 ($5.00 per person for every person over four)

$33.90 daily rate (includes taxes)
$169.50 weekly rate (includes taxes)
$420.00 monthly rate (plus 3% occupancy tax only)